Guaranteed Fitment

Always the correct part

In-House Experts

We know our products

Buy Now, Pay Later

Klarna Payments

Free Shipping

On Orders Over $100
Zamp Solar 115-Watt Roof Mount Kit
Zamp Solar 115-Watt Roof Mount Kit PART NUMBER: KIT1003 This small solar kit is enough to charge most single 12-volt...
customers are viewing this product
Zamp Solar 115-Watt Roof Mount Kit
PART NUMBER: KIT1003
This small solar kit is enough to charge most single 12-volt batteries, making it a perfect introduction to a solar-powered lifestyle. Excellent for smaller trailers or over-the-cab truck campers, it can also expand up to 510-watts for larger rigs and equipment.
This Kit Includes:
30 Amp, 5-stage PWM Charge Controller

Pre-Assembled wiring harness

3-port roof cap (ready for future expansion)

Stainless steel mounting hardware
Made in the U.S.
Handcrafted in Bend, OR using the highest grade monocrystalline solar cells for optimal output, our 170-watt panel is treated with anti-reflective coating to maximize light absorption.
Flexible and Durable
Our innovative Omni-Mount frame lets you mount the panels wherever you need them, and our stainless steel mounting hardware ensures your panels won't budge in route—no matter how far off-road you go. If you need to remove your panel for maintenance or safe storage, our easy-release mounting feet let you quickly unclip your panel without removing the hardware itself.
Simple Installation
Installation is a breeze with our pre-assembled wiring harness that doesn't require crimping tools. Since all of our products are compatible with each other, the included three-port roof cap makes expansions, upgrades, or additions simple and easy… just plug in and go!
Reliable and Convenient
The digital 5-stage, PWM charge controller lets you gauge your power with a glance, providing real-time updates of volts, amps, and amp-hours. Dual, self-resetting circuit breakers provide peace of mind by protecting your system from overcharging.
25-Year Output Warranty
Buy with confidence knowing that your solar investment will last for the long-haul.
115-Watt Panel Specs:
17.5 lbs

39.6" x 26.5" x 1.5"

115-Watt Power Output

Generates 6.3 amps

25-Year output warranty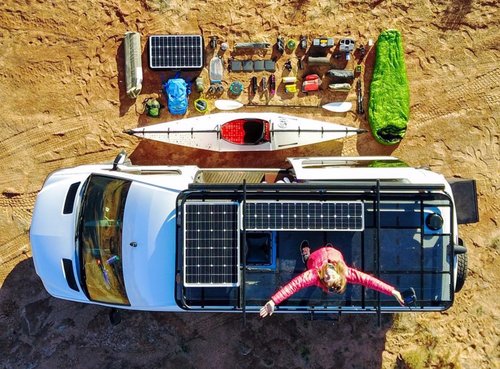 Zamp Solar 115-Watt Roof Mount Kit